While we haven't been hurricane-flooded wet like the Carolinas (spare a prayer for them), it's been wet this year.  If I'm reading this graphic from NOAA's Middle Atlantic River Forecast Center right, we're already about 16 inches over our annual rainfall, and we still have three more months to go: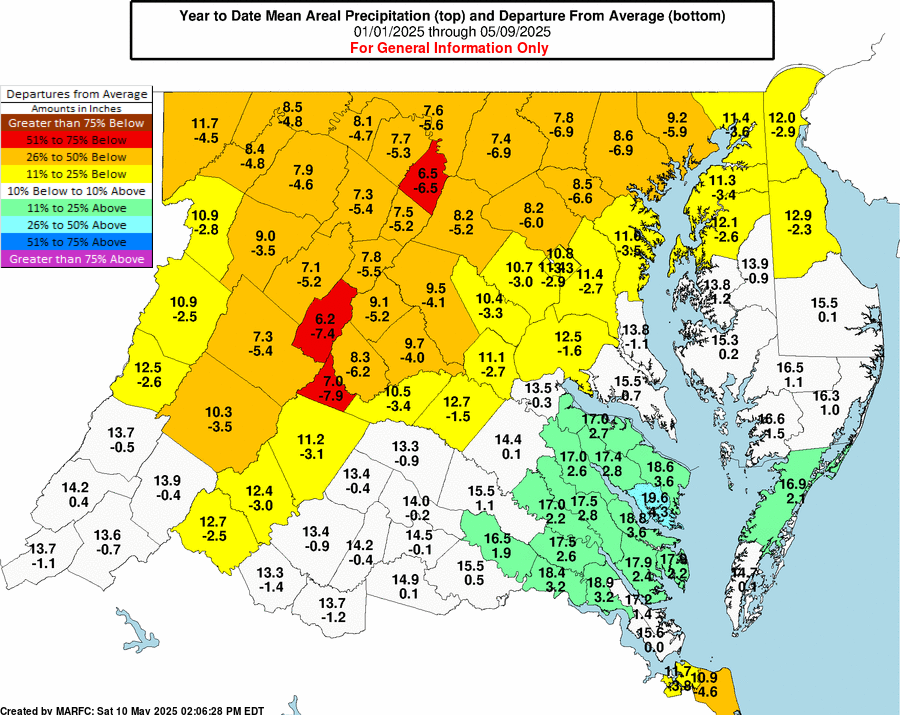 The numbers get all bunched up there in the middle around DC because of the cluster of airports (Dulles, National, and BWI), I suspect.
In practical terms, this has meant a few very wet rides.  One morning, the Four Mile Run connector path to the Mount Vernon Trail was under enough water that I decided to detour and take an entirely different path, along with four other bicyclists who came to that spot at the same time I did.  My hunch is that we've had enough rain this year that part of the embankment has washed away, creating a couple of more low spots where the water can flood the path.  At least, this is the first year where I remember seeing three washout spots, as opposed to just one.
The path along Gravelly Point has also gotten wet at least once, if not twice.  There's a nice debris field from the Potomac flooding that comes really close to the path, but since the path is a good 25 feet away from the river, at the top of a gentle slope, it didn't quite wash out a significant portion of the trail.
The geese who live at Gravelly Point, on the other hand, actually seem somewhat unhappy with this turn of events.  Last week, they were in the middle of the soccer field at Gravelly point, when usually they hang out on the other side of the path, closer to the river.  While yes, they're waterfowl, I think they resent their nice dry land close to the river being turned into marsh.  They get no relief on the DC side of the river, either, unless they cross a road to get to some sports fields (which they do, by the way, and obstruct traffic).  There are, however, some ducks who seem quite at home in the newly-marshy areas.
The rains continue.  Personally, I'm pretty happy with the most recent round, which has been falling gently for most of today.  I just planted some grass seed in my front clover/violet patch to try and cover in some bare areas, and this rain is perfect to get the grass going.